If you thought I was joking when I said I loved leopard print, you were oh, so wrong. *wink* Seriously though, I just started a new job (well, got promoted to assistant manager at a bigger store) and though it will hopefully make my life much easier in the near future, this first week is taking a lot of my time and energy. So I'm sorry, but I don't have an outfit post for you all! Instead I pulled together a couple of inspiring leopard print looks and etsy goodies that I hope you will all love. At least you should love them if you love leopard as much as I do.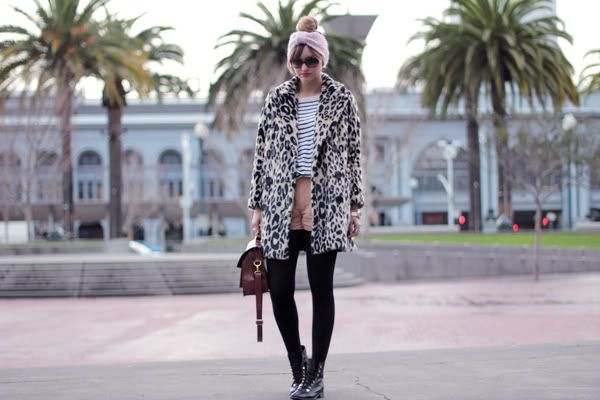 Gorgeous mix of colors and you know I have a thing for maxi skirts right now.
theworldlooksred
With such a super sweet look the leopard is unexpected and I love that!
Okay, so maybe she isn't wearing the leopard print coat at the moment, but how perfect is her adorable outfit!! Also, please check out Maria's blog, we're sponsoring her for the month of February!
Too cute! Please don't buy this because I'm kinda have my eye on it. (J/K. If you must have it go for it. I love this seller, and her blog too!)
Just found this gem of a seller on etsy. She sells some vintage and also creates her own one-of-a-kind distressed clothing. I think I favorited almost every piece.
How foxy is this little number! I can see it with tights and a blazer for day and killer heels for night. This seller has some of the most fun 80s and 90s pieces ever!
Another fabulous blogger I'm sure you all know. Her etsy store is full of wonderful vintage that you can see in some of her outfits posts on chictopia.
So, what girl doesn't need a touch of leopard in their closet? There are so many variations of this print and you can honestly find it on every type of clothing. So go forth and let your wild side out!